Stronger Woman
Member Since: Sep 21, 2007
Star in 1st Life
Last Login: Sep 19, 2013
aka Bre in 2nd Life

Female
27 years old
------------------
United States
Stronger Woman's Latest First Life Photos (421)
Stronger Woman's Latest Second Life Photos (384)
First Life Name: Star
About My First Life

"Think of mean ppl like sand paper. They may scratch you & hurt you, but you come out smooth and polished & the mean person is just worn & ugly" xD




"I just want to feel something amazing."

"If we could see the miracle of a single flower clearly, our whole life would change."

"A friend is someone that knows all about you and loves you just the same"

"I think allowing yourself to cry on the bathroom floor is fearless."

"People think dreams aren't real just because they aren't made of matter, of particles. Dreams are real. But they are made of viewpoints, of images, of memories and puns and lost hopes."

"Communication. It's the first thing we really learn in life. Funny thing is, once we grow up,learn our words, and really start talking,
the harder it becomes to know what to say, how to say it or say what we need."

"I know I'm not easy to understand. I know I keep a lot inside,
and I know I'm not the easiest person to read, but that's okay you know,
because even though there's a lot about me you'll never know- there's a lot more of me you can learn to love."

"My thoughts tend to sound better in books I didn't write, and in the songs I didn't sing. Even then, sometimes there is no piece of literature, no song, no work of art that can really explain the way you feel.

"Sometimes I do silly things; like bang into walls, or have serious turd moments, but deep down inside, I'm just a regular girl trying to find my place in this world."

"When someone sees you as you really are and still wants to be with you. Now that's powerful."

"Eat that damn chocolate cake, get your hair wet,
love someone, dance in those muddy puddles,
tell someone how you feel, draw a picture with crayons like you're young again and then
give it to someone who is very important to you. Take a nap, go on vacation, do a cartwheel,
make your own recipe, dance & sing like no one sees you, paint each nail a different color, take a bubble bath,
laugh at a corny joke. Get on that table and do a crazy dance, pick strawberries, take a jog, plant a garden, fight your fears,
make an ugly shirt and wear it all day, learn a new language, write a song, date someone you wouldn't usually go for,
make a scrap book, go on a picnic, relax in the sun, make your own video, give a helping hand, kiss the un-kissed, hug the un-hugged,
love the unloved, and live your life to the fullest. So when you're standing in front of heaven's gate that chosen day,
you'll have no regrets, no sorrows, no disappointments."

"In my opinion, the best thing you can do is find a person who loves you for exactly what you are. Good mood, bad mood, ugly, pretty, handsome, what have you, the right person will still think the sun shines out your ass. That's the kind of person that's worth sticking with."

"Believe in love. Believe in magic. Hell, believe in Santa Claus. Believe in others. Believe in yourself. Believe in your dreams. If you don't, who will?" -Bon Jovi

"It's those things you hate about yourself that someday someone will love about you."

"Everyone has a 'gripping stranger' in their lives.
A stranger who unwittingly possesses a bizarre hold over you. A stranger who, if you were to come home and find a message from them on your answering machine saying, "Drop everything. I love you. Come away with me now." You'd follow them."


WELCOME :D (If you don't have firefox my profile may be a little crazy for you sorry =S)


"The BEST & most BEAUTIFUL things in the WORLD can't be SEEN or even TOUCHED. They must be FELT with the HEART." <3



"Peace + Love = :D :D HAPPY :D :D"

"Music = Voice = :D :D HAPPY :D :D"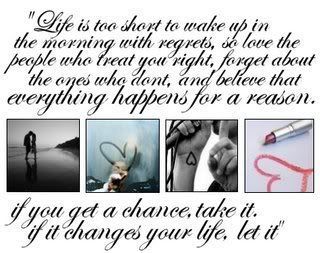 "Nobody promised it would be easy, they just promised it would be worth it!"
"To love a person means to see him as God intended him to be."- Dostoevsky

"Dance like nobodys watching,Sing like nobodys listening,Live like your on top of the world, and die with no regrets"

"Life isn't about waiting for the storm to pass.Its about getting out there and dancing in the rain"

"Do what makes you happy, Be with those that make you smile,Laugh as long as you breath,Love as long as you live"










Good Advice:

So don't be afraid to make mistakes, stumble & fall, because most of the time the greatest rewards come from doing things that scare u the most. Maybe you'll get everything u wish for. Maybe you'll get more then u could ever ask 4. Who knows where life will take u. The road is long & in the end the journey is the destination.

Learn from yesterday, live 4 today & hope 4 tomorrow.

❤XoXo❤



Stronger Woman's 1st Life Details
Second Life Name: Bre
Rez Date: 5/26/2007
About My Second Life



I don't need to hide behind a cartoon I am who I am just the same as rl.I don't pretend to be someone I'm not

If you can't love me for me or want to judge me then your loss not mine!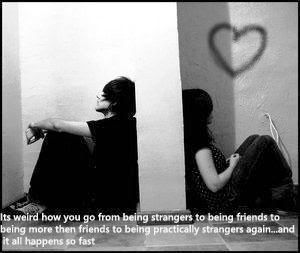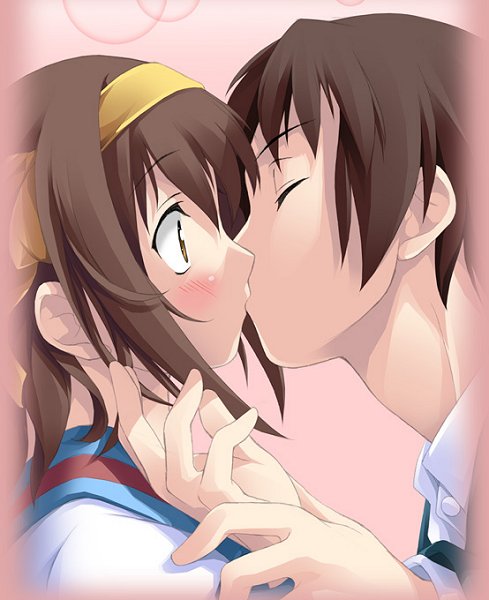 Stronger Woman's Interests / Favorites
| | |
| --- | --- |
| Favorite Music: | Jamaican music :D,Techno, Rock, songs that make me go in aw, a lot as long as I can understand it =/ |
| Favorite Movies: | Avatar, Up, I<3u man, Music&lyrics,Pirates1,2 &3,V for Vendetta,Boondock Saints, Findin Neverland |
| Favorite Books: | Daisys back in town, Eragon,Twilight..I mostly read manga tho |
| Favorite TV Shows: | Lost, 24, Heroes, My name is Earl, Family Guy, The Nanny, Adult swim, Moon light, Big Brother |
| Favorite Foods: | Asian,Apples :D |
| Favorite Animals: | PANDAS!!!, Cats, Dogs, Horses, Dolphins |
| Favorite Sports: | Not really a sports person...I like to play tennis ever once in a blue moon but thats about it |
| Favorite Places: | Anywhere I am with the ppl I love, Hawaii |
| Favorite Celebrities: | Johnny Depp =p |
| Hobbies: | Thinking... |
Stronger Woman's Comments (355) [Post]
Posted By B.A.
Sep 2, 2011 - 8:24 am
cheese... is that you? lol
Posted By Indiana Ranger
Jul 8, 2011 - 5:22 pm
LOL....no problem. I rarely use this site either. I actually saw the contemporary performance that you linked (the greek statue one). That was awesome!
Hey, guess who's been staying at the hotel where I work this week? Chelsie Hightower! (with her mom) Very sweet girl...and shorter than I thought. lol
Take care, sis.
Posted By Indiana Ranger
Jun 17, 2011 - 1:08 pm
Hey, thanks for reminding me that SYTYCD is even on. Sadly, we've skipped the last coupla seasons (kids always want to watch but a lot of the dancing and commentary get a little to ...ahem...suggestive). But I can try to catch up by watching them online anyway. :>)
Hope you're doing well and keep bringing your beautiful smile to the world around you. Take care, sis.
Posted By Helene75
Jun 12, 2011 - 2:23 am
U says : "The BEST & most BEAUTIFUL things in the WORLD can't be SEEN or even TOUCHED. They must be FELT with the HEART" : in the same way i hope we can become friends even u are far from my city !
Posted By B.A.
Apr 7, 2011 - 10:35 am
Pokes holes in the Cheese... Or would you rather me cut the Cheese?

Hope all is well :)
Posted By Indiana Ranger
Mar 29, 2011 - 12:57 am
Hey sis! I found an awesome new singer who I bet you'd love and she actually got her big break from SYTYCD! Christina Perri:
Jar of Hearts
*course, I'm also betting you've heard her already....but just in case* :>)
Posted By Armani Fallen
Mar 18, 2011 - 10:03 pm
Nice profile pic, dollface :)
Posted By B.A.
Mar 6, 2011 - 11:39 am
Pokes you
Posted By SuzzanneC
Mar 4, 2011 - 0:25 am
hihi. i like ur profile.
just sending hugs. :)
Posted By B.A.
Mar 3, 2011 - 7:21 am
Hi Cheese... Hope all is well... If not tellme what I have to do to make it better :))
[View All Comments]